Top Hiking Spots in Joshua Tree National Park: Wall Street Mill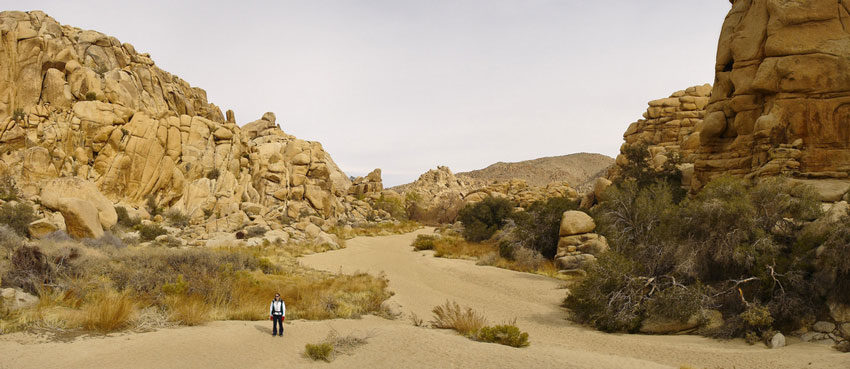 As the great vistas of Joshua Tree National Park gradually open up to you, you might be tempted to simply throw yourself into its vast expanses and soak up the beauty of it all. "But where to begin?" You might ask a little later, not unreasonably. Fret not, for we've gone ahead and counted each pearl in the string of Joshua Tree hiking spots, and today we're looking at the Wonderland Ranch and the Wall Street Mill in the Wonderland of Rocks.
Photo by Miguel Vieira
Basic stats first please.
Okay. Distance: 3 miles.Time: around 90 minutes. Elevation gain: just 20 ft, so difficulty: easy. Best done in spring, autumn, and winter.
How to get there?
If you're coming as a Wild West Challenge participant, the best way is from your Twentynine Palms stop. Take Park Boulevard to the south, pass Jumbo Rocks Campground, then follow the sharp bend north that skirts Skull Rock Nature trail. Take the second exit. O'Dell Rd on your right, then either of the two exits, Big Horn Pass Rd, or a little later, Queen Valley Rd on your left, they'll both take you to the trailhead it shares with the Barker Dam Loop. Look for the clearly marked sign for the Wall Street Mill, then instead of heading towards the rock formations, veer off to the east on a stone-marked dirt path.
What condition is the trail in?
Pretty good. If you're simply heading to the Wall Street Mill and back, it is quite easy to follow. But if you're interested in exploring the wonderful ruins of Wonderland Ranch, you'll also need to do a bit of cross-country traveling. Do take a map, because there might be visible landmarks, but these may not be enough if you're not used to walking off-trail in the desert.
Good to know. What sets this trail apart from others?
Though it's as easy to walk as neighboring Hidden Valley, this Wonderland of rocks hike showcases more of the prospecting history of Joshua Tree National Park, as this route goes past the ruins of Wonderland Ranch as well as some old foundations further up Wonderland Wash, before turning back to Bill Keys' – a prospector, rancher, and colorful desert character – Wall Street Mill, which is the best preserved gold stamp mill in the region.
Give me a little preview!
The trail winds through a few washes like this one you can enjoy in a 360 view here early on, but it's very easy to follow because it's clearly marked. After about half a kilometer, the trail reaches a second parking area. Look for a clear path on your left, near an old bike rack, and continue on hiking.
A few dozen strides down this path, you'll find a fork in the road. If you'd just like to see the stamp mill, continue straight on – but chances are that you're going to spot the ruins of an odd, pink building on your left and your sense of adventure is going to perk up there … so go for it and head that way first.
You do know me.
These are the ruins of the old Wonderland Ranch. Do feel free to explore the remaining foundations and walls, keeping an eye out for old tin cans and other odd items.
There is a trail leading into a wash just behind the ranch ruins; here, you can see an old mortero and a "natural icebox" storage bin used by the natives. If you keep going, this route will also lead you to the "Superdome" climbing routes if you're that way inclined.
If you're not, continue on the faint trails hugging the rock formations as they make a bend to the east. Quite soon, you'll reach the ruins of an old truck, abandoned in the middle of the desert.
Wonder what the story is there.
Here, you can either backtrack south a little to return to that main dirt path, or take a small side trip. You'll notice a faint dirt trail heading north, but only when you stop to take a look at the identical parallel trail will you realize it's all that remains of an old road.
In about 500 meters, you'll reach another set of ruins – this one just the foundations. There's a small, narrow staircase that leads you into an uncovered root cellar. It's a cool place to hang out and envisage a much wilder, not-too-distant era.

And the Mill?
Keep going along the path for another few couple of hundred meters, where you'll reach the ruins of the old Wall Street Mill. It's in extremely good shape – and though it's fenced off, you can discern a lot of the old machinery. You can walk around the whole site, but please – don't enter the mill itself or take anything with you. The site is listed on the National Register of Historic Places.
A plaque near the front of the mill explains exactly how the milling process works in gold mining. When you've explored the area to your satisfaction, head back the way you came, staying on the main path to return to the parking area at the trailhead, and on to Twentynine Palms and then to Tecopa, for day three of your Wild West Challenge.
Liked this story? Getting itchy feet to travel and find adventures? Then join us on our next
Wild West Challenge
. Get a team together and experience an amazing road trip through the Wild West! If you want to join us in spirit, like us on
Facebook
or follow us on
Twitter
and
Instagram
to keep up with our latest antics. And to never miss any important update, why don't you sign up for
The Travel Scientists Newsletter
!