Joshua Tree National Park Hike: Hidden Valley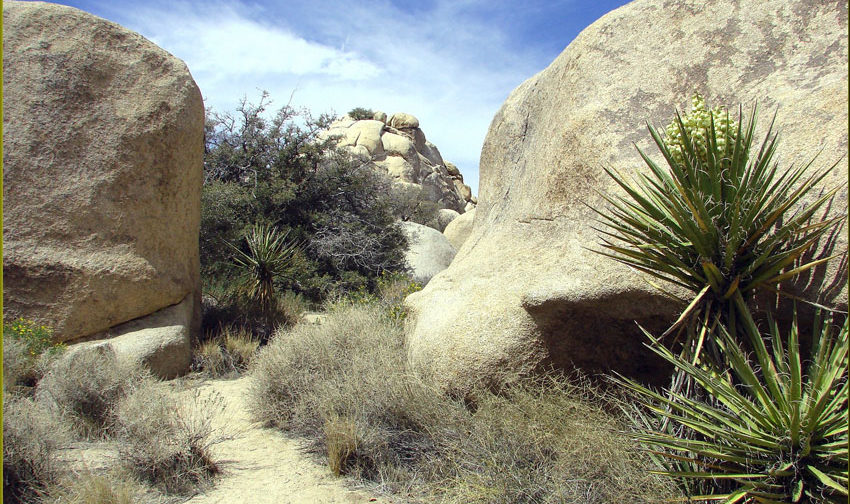 As you leave the Salton Sea behind, you'll see the park's 794,000 acres ahead beckon you on with the breathtaking scenery of the Mojave and Colorado deserts. An adventure-seekers paradise full of winding trails, peaks and dramatic views, it begs to be explored; we have picked our top hike of the park that you can fit into day two of your Wild West Challenge and still arrive in Tecopa in good time in the evening.
Photo by Don Graham
Okay. Hit me with the trail stats.
Distance: one mile, elevation gain: flat, time: half an hour to three, depending on your pace. It'll best fit in your schedule straight after you pass through Twentynine Palms.
…And directions.
You only need follow CA 62 going west, then take Park Blvd for 14 miles until you see the Hidden Valley Campground on the left. The nature trail starts a little further up the road on the right. Parking is available right there.
Sounds perfectly doable.
Yup. You'll find Hidden Valley off Park Boulevard 12 miles southeast of the west entrance. It looks a little like a real-life scene from the Flinstones, with huge mounds of white tank monzogranite piled up all around you. There are rumors that the trail was once a famous hideout for cattle rustlers, and it's not hard to see why: as you work your way through the trail. The huge piles of boulders are primed for climbing and also create distracting acoustics that make it difficult to ascertain where anyone is.
Is it a busy trail?
Yes, it is well groomed and a lot more populated than the trail to Warren Peak to the west. Also worth noting is that although the Hidden Valley loop is only one mile long, you can easily spend two, three hours exploring the rock formations. These are very easy to climb. The white monzogranite has a very tacky and solid surface, but be careful because it's often easier to go up than come down, especially if you haven't brought climbing equipment. And another thing, it's hikers only, no mountain bikes allowed.

Sounds like a plan!
Thought you might like it.
Liked this story? Getting itchy feet to travel and find adventures? Then join us on our next
Wild West Challenge
. Get a team together and experience an amazing road trip through the Wild West! If you want to join us in spirit, like us on
Facebook
or follow us on
Twitter
and
Instagram
to keep up with our latest antics. And to never miss any important update, why don't you sign up for
The Travel Scientists Newsletter
!