Food you need to try in California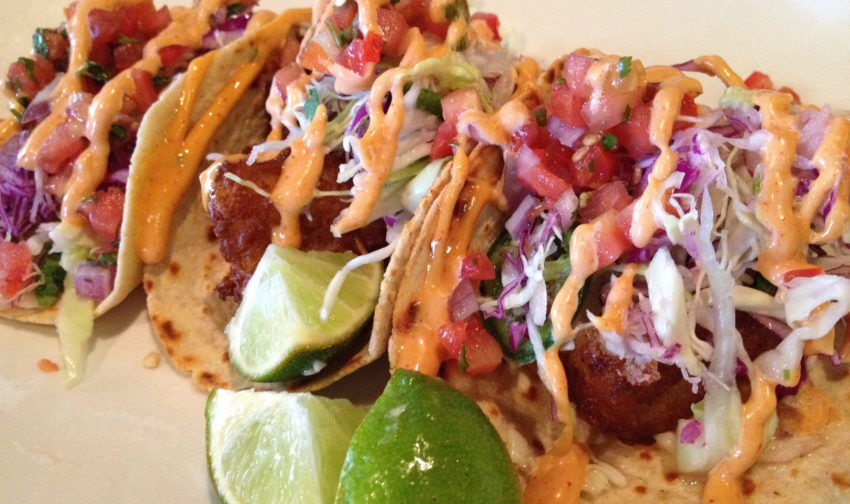 Californian cuisine goes from the favourite dishes of the miners in the old days' Gold Rush, to the trendiest fusions with Mexican and even Japanese traditional dishes. Including a lot of fresh seafood from the West Coast, awesome white wines, and, of course, the always-American own style of pizza! These are the dishes you need to try while in California: 
Cover Photo: Fish Tacos by Ray Bouknight
Sourdough Bread
This style of bread got famous in California during the Gold Rush in1849, since it was one of the favourite meals of the miners, who used to bring it with them to their underground expeditions. Its popularity hasn't stopped growing ever since, although its invention dates back much further in history. This starter has become hugely popular in areas close to San Francisco for its intense sour flavours and dense texture. It is such a local specialty that it is hard to find anywhere else in the world. This white bread has a chewy and crispy crust, and you can accompany it with popular San Francisco soups like clam chowder and Cioppino.
Cioppino
Cioppino (as you may have guessed because of its name) was created by Italian immigrants that were relocated in San Francisco during the 19th century. These Italians, who came originally from Liguria, were working as fishermen in the Atlantic coast. In the end of the day they would take the leftovers of the catch of the day and prepare with them a tasty stew: that is how Cioppino soup was created. Today, Cioppino is usually made with crab, clams, shrimp, scallops, squid, mussels and various kinds of white fish mixed with red wine broth and tomato.
Shrimp and Crab Louie
This dish is basically a refreshing seafood salad made with crab or shrimp meat. Besides the seafood, it usually has hard-boiled eggs and vegetables such as tomatoes, asparagus, cucumber and lettuce. All of it is topped with Louie dressing, which is made of mayonnaise and chili sauce, and seasoned with peppers.
California Roll
The California Roll is the most popular fusion cuisine that you will find in the southwest. It combines the best of Japanese and Californian culinary cultures. Basically, it is a sushi roll filled with crab meat, avocado, cucumber, rice and seaweed. Unlike traditional sushi, the roll is made inside out: the rice is outside the seaweed, surrounding it, while the rest of ingredients is inside the seaweed. It was originated in Los Angeles in the 60s.

California Mexican Food
Mexican cuisine is very popular in California due its proximity with the great land of Mexico. Despite classical burritos, tacos and quesadillas are also very popular in the state, California has also introduced some innovations in the classic Mexican dishes, creating the Californian-Mexican cooking style. One example of these meals would be the California Burrito, which in addition to the traditional burrito ingredients (spiced roasted meat, rice, beans…) includes French fries inside of the wrap. San Francisco Mission Burrito has also become a national dish, and even fast food chains are selling it now. It consists of four large tortillas filled with rice, meat, beans, salsa, cheese and guacamole, which are then wrapped in foil following a special technique and enjoyed. Fish tacos are also hugely popular in the coast: these delicious treats substitute the meat of the taco with grilled fish sprinkled with lime juice and avocado.
Ranch Dressing
This sauce is awesome not only to spice up salads, but also as a dip for chips, sandwiches and chicken strips. It is made of buttermilk, sour cream, yogurt, onions, garlic and other spices, and creates a refreshing contrast with the vegetables and meat that it usually accompanies.
California-Style Pizza
The typical Californian pizza combines the thin crust typical from the Italian and New York pizzas with toppings from the California cuisine cooking style, which includes ingredients no often seen on pizzas such as smoked salmon, seafood, shrimps and asparagus.
Wine
Northern California is famous for its wines and vineyards dating back to 1855, especially white wine, so it is definitively worth to try a glass while in there. Sparkling wine is also very popular, and it is made in the Methode Champenoise style in the north, where the temperatures are cooler.
Getting hungry for a real California banquet? Join our road trip through the Wild West and drive across California and many other awesome places in Nevada, Arizona and Utah in and unforgettable adventure: the Wild West Challenge!
Liked this story? Getting itchy feet to travel and find adventures? Then join us on our next
Wild West Challenge
. Get a team together and experience an amazing road trip through the Wild West! If you want to join us in spirit, like us on
Facebook
or follow us on
Twitter
and
Instagram
to keep up with our latest antics. And to never miss any important update, why don't you sign up for
The Travel Scientists Newsletter
!