US Route 50: America's Loneliest Road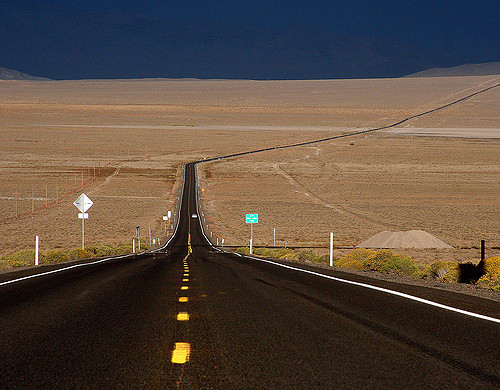 Imagine the iconic road trip through the West of America: you and your car driving through a straight road that gets lost in the horizon, stunning landscapes surrounding you and no one else to share it with: the road is yours. You don't have to just imagine it: the US Route 50, or America's Loneliest Road, will transport you to a whole new universe. 
US Route 50, usually known by the short name US 50, is one of the major highways connecting the East and West lands of the United States, from Ocean City in Maryland to West Sacramento in California. Running across approximately 4,800 km, the route goes mostly through rural, silent areas of the West. One of these areas is the section that crosses the state of Nevada, and perhaps this is one of the most interesting pieces of it. This piece of the road has become known as "The Loneliest Road of America" since Life Magazine described it with that term in 1986. It was intended to be a pejorative, but Nevada officials seized it as a marketing slogan.
On its way crossing America, US 50 passes hundreds of little towns and small villages. If you are not in a hurry, it is the best way to travel to the West, as it is little known and offers an awesome road trip opportunity. Writers such as William Least Heat-Moon in his book Blue Highways have praised it, and it was referred as "The Backbone of America" in Time Magazine.
The Nevada portion of the US 50 route, which is probably the one that got the nickname of "Loneliest Road in America" by travelers, evokes a deep feeling of loneliness when driving through it. For miles and miles all that surrounds you is mountains, sand and blue sky, and no other sounds but the nature and the roar of your car. Or perhaps your own voice singing along with the radio, but that is only your choice.

The highway enters Nevada descending from Lake Tahoe, and crosses then a series of north south running mountains ranges that break up the Nevada dessert which are called Basin and Range. East of Carson City, the road enters the heart of the Great Basin, passing a few communities and minimal services, giving it its lonely nickname. Following the road you will cross through the capital Carson City, Fort Churchill State Historic Park, and interesting historical sites such as petroglyphs, alpine forests, desert valleys, ghost towns and national parks. Also in Utah, US 50 passes through desolate and remote areas with just a few inhabitants.
The history of this beautiful and lonely road across the Wild West begins almost two hundred years ago. At the time, there were no established trails: all you could find in the area were the pathways made by the Native Americans. It is believed that all started with Captain William Bicknell. He made a successful trip to Santa Fe, where he managed to make himself of gold by selling goods. The route that Bicknell explored became soon the Mountain Branch of the Santa Fe Trail, which was already working. This would be the beginning of the US 50 route, which was officially created in 1926 as part of the original US Highway System.
Today, as you travel trough the countryside and towns crossed by the famous trail, you should totally be on the lookout for sights of the highway's past. You will be able to spot still some old gas stations, dinners and motor courts hidden between today's buildings and businesses: a small look through America's past. You will also be able to see huge stretched of smooth straight toad followed by twisty mountain roads.
Those who have driven through the lonely road say it is an interesting and beautiful drive, and that it is a drive everyone should take in their lifetime. So if you don't want to waste the perfect opportunity for it, join the next Wild West Challenge and come with us in an incredible road trip through the Wild West, not only through the melancholic US 50 Route, but also through many other amazing places in all the way through California, Nevada, Utah, Arizona and Colorado!
Liked this story? Getting itchy feet to travel and find adventures? Then join us on our next
Wild West Challenge
. Get a team together and experience an amazing road trip through the Wild West! If you want to join us in spirit, like us on
Facebook
or follow us on
Twitter
and
Instagram
to keep up with our latest antics. And to never miss any important update, why don't you sign up for
The Travel Scientists Newsletter
!