Top Hiking Spots in Joshua Tree National Park: The Barker Dam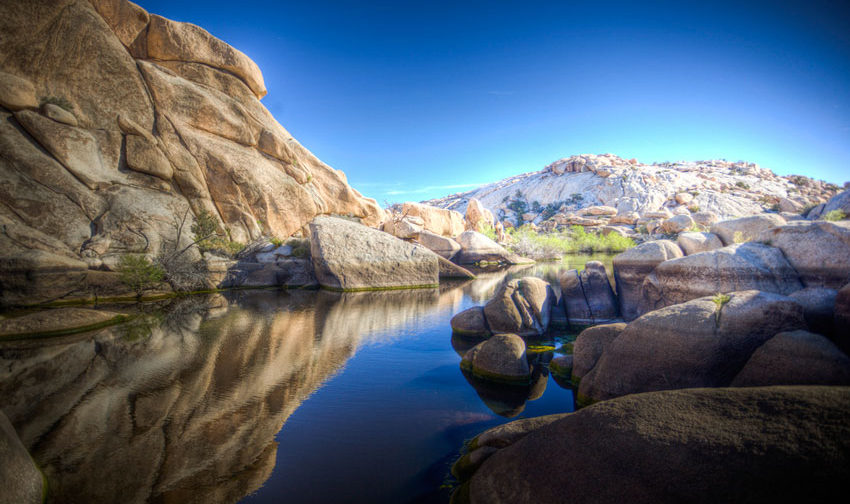 Continuing our mini-series on top hiking trails in Joshua Tree National Park, today we'll be visiting the Barker Dam, adjacent to the Wall Street Mill we wrote about last time. This easy and short trail is also suitable for beginners or as a last-minute stroll before the sun goes down. Added bonus: rare view of water in the desert.
Photo by Terry Robinson
What are the stats?
Distance: 2.9 kilometers, time: max. 50 minutes, elevation gain: 21 meters. It's an easy stroll.
How to get there?
From inside Joshua Tree National Park, turn off Park Blvd. and head toward the Hidden Valley campground. Go past this campground as well as the road to Keys Ranch. There is a circular parking lot at the trailhead. There are two paths from the large parking area — be sure to head slightly toward the west as you approach, because there's also a side trail that winds through some beautiful boulders to the northeast towards the Wall Street Mill.
What condition is the trail in?
Very good, actually – there's a nature trail that takes you to the dam and loops through some of the old Keys Ranch area. Though some trails are unmarked, it's very easy to follow and usually has other people on it.
When was it built?
In 1902, by a cattle company. It forms a small reservoir set among the rock formations near the Wonderland of Rocks. The Barker Dam is listed on the National Register of Historic Places, and is a prime spot for birding and the chance to catch a glimpse of desert bighorn sheep, and see Native American petroglyphs.
I guess it's very popular.
It is, for strollers, hikers, and rock climbers alike — and for good reason too. The path is very easy, the elevation gain is almost nothing, and the scenery is just outstanding. If you stick to the west entrance, you'll soon find yourself walking down a narrow canyon, closed in by towering boulder walls on all sides. The effect is striking, but not claustrophobic: these aren't slot canyons, by any means. However, if you look up on either side, you might find some of the more daring hikers trying their hand (and feet) at scrambling up the monzonite.
I'd be tempted too.
Yes, but the best part is still ahead. The trail winds on for a short while, making a few small climbs, then finally gets to the Main Attraction — Barker Reservoir. Built on a natural water tank, the original Barker Dam was made higher by the Keys family during their homesteading years, and now whenever it rains, a pretty lake forms in the midst of these desert rocks. The original settlers used it for cattle and irrigation. Now, it makes for some great insta moments, perfect for Wild West Challenge takers. Just sayin'.

 Is the dam itself insta-worthy?
The dam is topped with a hand-chiselled inscription by the Keys clan, and there's a still-standing cattle trough at the base of it, so I'd say so.
Okay. What lies beyond it on the trail?
From here, the path opens up into a wide, flat valley, skirted by the trademark rock formations of Joshua Tree all around. The path makes a wide circle through the valley and passes several interpretive plaques along the way. If you're doing this trail on your way out of the park, enjoy the quiet you've probably got on the latter part of the trail through this central valley. It's a great place to watch the first stars appear just after sunset.
Liked this story? Getting itchy feet to travel and find adventures? Then join us on our next
Wild West Challenge
. Get a team together and experience an amazing road trip through the Wild West! If you want to join us in spirit, like us on
Facebook
or follow us on
Twitter
and
Instagram
to keep up with our latest antics. And to never miss any important update, why don't you sign up for
The Travel Scientists Newsletter
!