The Amazing Jeep Trails of Moab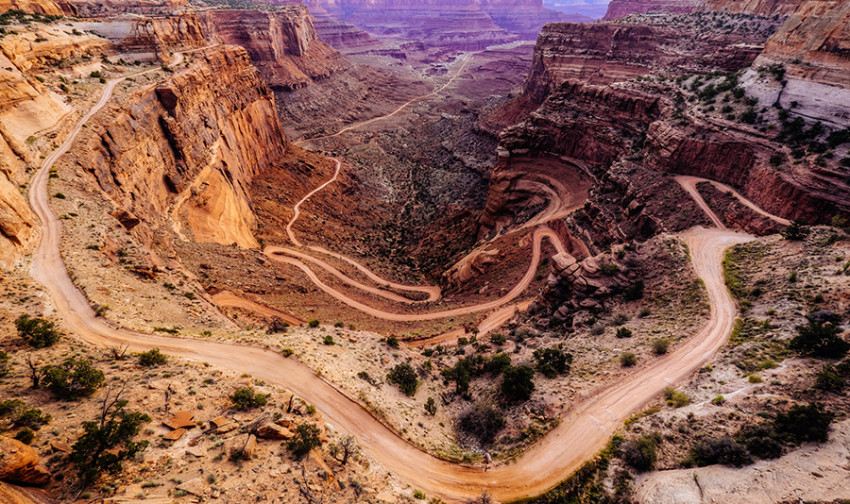 If you always dreamed with driving you car across incredible routes, challenging your driving skills with obstacles and rocks, but finding in the way amazing views and landscapes plus the adrenaline of driving through awesome trails, welcome to Moab: the most amazing Jeep trails you will ever see in a rally through the Wild West!
The Moab area, located in the state of Utah, is a beautiful and historical place. However, most of its fame comes from the old mining roads and 4×4 trails, which make it an unforgettable spot for adventure and speed lovers. Visitors who want to try the risky and challenging trails can do it with their own vehicles or rent one in the spot. For those who are not so comfortable driving, there is even organized tours in which people can go on the car with one of Moab's experienced drivers and guides. Not that the participants of the Wild West Challenge would need that option!
Moab has been described by wheel and adventure fans as the best off road area in the world. There are many different trails to try, and each one of them, with their different characteristics, constitutes a brand new adventure. Some are harder than others, challenging even the most experienced and reckless drivers, while easier trails for beginners can also be easily found in the area. Trails thought for 4-wheel and 2-wheel vehicles can be found, so no one stays behind. What is for sure is that all of them are incredibly fun to cross!

Here are some of the most awesome trails you will find in Moab:
Hell's Revenge: Don't let the name scare you: it might be the most famous trail for off road vehicles in Moab area, so it shouldn't be missed. You will find landmarks in the way such as The Escalator, Hell's Gate or the unofficially so called Lake Michigan.
The Golden Spike: A trail filled with amazing climbs and descent that will give you an immediate adrenaline shot. Featuring beautiful spots such as Golden Crack or Double Whammy, it is a long trail worth to spend the day driving.
The Poison Spider Mesa: this trail offers to the adventurers that dare to cross it amazing views of the landscape of Utah. You can enjoy a long ride until Golden Spike while overcoming the obstacles that make the trail as challenging as it is.
Pritchet Canyon's: A difficult trail that will really test your driving skills, as much as you car's capability. Its climbs are not affordable for anything smaller than a Jeep!
Kane Creek: This is one of the most playful trails of Moab. It is filled with water crossings and shade, which make it more pleasant to stay the day or to make a few stops before continuing the trail. Here you can also check the Willys Wagon, which fell down from a cliff years ago near to the bridge.
Cliff Hanger: This is a hard trail where drivers will find a lot of obstacles and rocks from the very beginning until the finish line. The road is only one way and you must overcome both directions going until the Overlook and back as there is no way out from the end of it. So you get to do everything twice!
Chicken Corners: A great route for beginners, not too difficult to complete but filled with incredible views such as the Colorado River Canyon, Kane Springs Canyon, or the 400 feet above the river Dead Horse Point.
Moab Rim: This trail climbs up the strata along the south side of Colorado River, until a point where drivers can get breathtaking sights of Moab, the Spanish Valley or the La Sal Mountains. Besides, they can also visit the rock constructions known as "Indian Forts" and get to enjoy the art figures painted in the rocks. Filled with precarious angles that can make the way risky, it is not an easy route to take, especially in its way up the mountain.
Moab trails are indeed amazing, but if it is adventure and driving through the most awesome landscapes of the USA what you are looking for, then the fun shouldn't stop here! Get to drive across the Moab trails, and through other breath taking places in Arizona, California, Nevada, Utah and Colorado, in an incredible road trip through the Wild West: the one and only Wild West Challenge!
Liked this story? Getting itchy feet to travel and find adventures? Then join us on our next
Wild West Challenge
. Get a team together and experience an amazing road trip through the Wild West! If you want to join us in spirit, like us on
Facebook
or follow us on
Twitter
to keep up with our latest antics. And to never miss any important update, why don't you sign up for
The Travel Scientists Newsletter
!