Villa Anita in Death Valley: The Lap of Ludicrity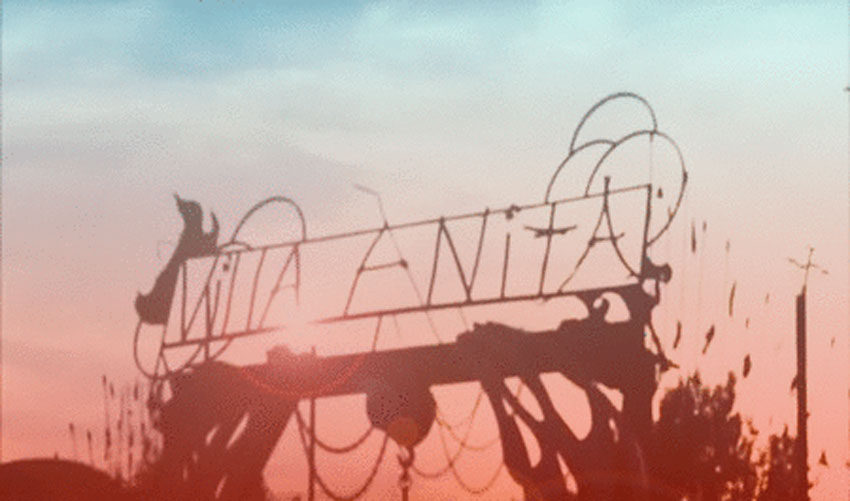 Heard the one about three men on a train going coast to coast? Now imagine they are in fact Ikea, oddball Catalan architect Antoni Gaudi, and your crankier gran in one of her more expressive moods, tasked to design the perfect holiday resort. Good, now if you just add the Insta filter "Oriental Interjection"… There. Welcome to Villa Anita, in Tecopa, California.
Photo by Carlo Roncancio
I'm not sure I can picture this.
It took me a while too. Fortunately, you can get a sneak peek of it on YT:
Kinda makes you feel like you've set off to slip into something more comfortable and somehow ended up mistaking an armhole for a wormhole, doesn't it?
You said it. How did this come about?
Believe it or not, Villa Anita is far from unique in the area. There are scores of tiny dwellings with hmm…eclectically styled interiors dotted around this remote region, bracketed by Thunder Mountain Monument to the north and Salvation Mountain to the south. They are all built from recycled materials and packed to the gills with fine furniture.
What's different about it then?
What sets it apart from the rest is that it is a blink-and-there's-something-new event in the matrix (not unlike your favorite Scandinavian furniture merchandizer, in a way, minus the meatballs), maintained and fostered by one full and one part time resident artist, David Aaron Smith and Carlo Roncancio, whose work highlights pressing social issues. In Villa Anita, you actually get to see the project unfold and may, if your contribution is deemed fitting, add to it yourself, as well as speak directly with the artists. Of course, as you get to hear their stories, you might end up joining many an adventurer who've passed this way at some point and had their passion to visit similar sites in the Mojave landscape ignited.
Is there a method to the madness, as it were?
Very much so. The Villa is a maze of carefully arranged living spaces, gardens, sculptures, and lounging areas where you can chill out, zone out, and reflect on armholes, wormholes, mortal coils, contraceptive coils, whatever. Alternatively…
Sounds all right.
Oh, and nearly forgot: you can also commission a portrait by either of your hosts, in a variety of styles. Not a bad thing to be taking away, if you ask me. In addition to cardfuls of totally 'grammable standout shots and/or vids of course that might well give some wide-eyed follower of yours sore thumbs.

Where exactly is it?
You'll find it between San Francisco, L.A., and Las Vegas. It's closest to Vegas (only 80 miles), but you'll still need your own car to get there. If you don't plan to spend the night, tours of Villa Anita cost $20 a person and include a drink of your choice. To book a room or tour, you can send them an e-mail, or give them a call, but calling is better. Visit them before or after the Wild West Challenge.
Liked this story? Getting itchy feet to travel and find adventures? Then join us on our next
Wild West Challenge
. Get a team together and experience an amazing road trip through the Wild West! If you want to join us in spirit, like us on
Facebook
or follow us on
Twitter
and
Instagram
to keep up with our latest antics. And to never miss any important update, why don't you sign up for
The Travel Scientists Newsletter
!