Top Hiking Spots in Joshua Tree National Park: Pine City Trail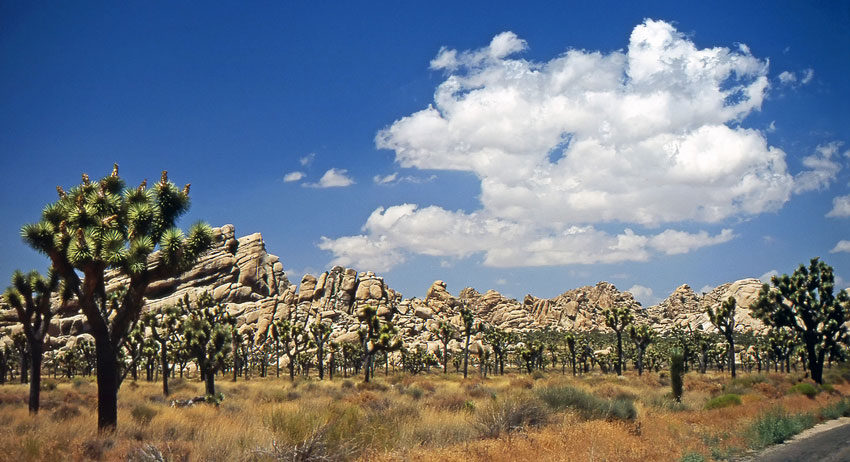 This hike in our series meanders around one of the park's few verdant areas (its name means "the place of springs and grass"). Pine City trail is often overshadowed by the more prominent Ryan Mountain Trail or the more accessible Barker Dam Trail. But, in fact, this is one of Joshua Tree's best hikes.
Photo by Giorgio Galeotti
…Because?
It's the perfect blend of a casual desert walk filled with classic Mojave plants, a seasonal wash, and a pinyon pine microclimate formed from large boulders, plus sweeping views of Queens Valley. All this is wrapped up in a four-mile hike with bonus rock scrambling and side trails to explore.
Hmm. Stats please!
Distance: 7 kilometers, elevation gain: 160 meters, time: two hours.
Plan on two hours for the hike itself and add more for additional exploration. Difficulty: easy-moderate. Trail condition: an easy to follow path to Pine City. From the junction, the trail becomes a little less clear but it is intermittently marked with cairns.
How to get there?
From Joshua Tree, turn right onto Park Boulevard and keep going for 21 miles. You'll find the trailhead to Pine City 2 km north of Park Boulevard, on Desert Queen Mine.
You said it was 'greener' than other trails.
And possibly older; its history goes back further than the other trails': there used to be a village here established by Serrano Indians and now the trail leads past California fan palms that are said to have been planted for these early inhabitants. But yes, greener too.
The first two kilometres of this trail runs parallel a wash on your left as it gradually climbs towards the Pine City site. While you walk this trail, you have the chance to observe pretty much every type of classic Mojave Desert flora, such as:
The smelly, shining, and medicinal Creosote,
The silver cholla,
And of course the namesake Joshua tree.
All of these plants thrive in the higher altitudes within the Mojave Desert.
One of the first signs that water is getting more abundant is the presence of juniper trees, which are often seen along the banks of washes like this one.
There is also a great variety of cacti along this trail, including the California barrel cactus.
All these plants are lovely to see, but…
…Isn't this supposed to be pine city? They reside past the 2.5 km mark, where the trail drops into a gorgeous alcove of tall granite monzonite boulders with large pinyon pines ensconced between them. When you put large rock piles in a fairly active wash, you create a microclimate that's suitable for plants that thrive in a much more moist and cool environment.
Not sure I'd be ready to leave after a couple of hours.
No. It's much more a half a day kind of hike so you can comfortably explore the pine city site and nearby canyons. You'll find a rare mixture of beautiful flora and fantastic scrambling. A trail junction, located just before Pine City, gives you three exploration options.

Are the other options to explore?
The left-most option contours around the west side of Pine City for half a kilometer and eventually reaches an airy vista looking into the valley in the north.
The right-most one dips briefly into Pine City before it starts a rapid descent toward the Oasis Visitors Center. If you're that way inclined, you can actually hike all the way down to Utah Road. But otherwise, don't venture too far down in that direction or you will have to do a lot of climbing on the way back.
The third option is to go directly into Pine City and enjoy the shade of boulders and pine while taking a desert nap or having lunch. Then, once you have soaked up the Pine City trail vibe, return to your car by retracing your steps to the parking lot, and rejoin your fellow Wild West Challenge takers in Tecopa in the evening.
Liked this story? Getting itchy feet to travel and find adventures? Then join us on our next
Wild West Challenge
. Get a team together and experience an amazing road trip through the Wild West! If you want to join us in spirit, like us on
Facebook
or follow us on
Twitter
and
Instagram
to keep up with our latest antics. And to never miss any important update, why don't you sign up for
The Travel Scientists Newsletter
!