Joshua Tree National Park: Twentynine Palms, a Town with a Hidden Treasure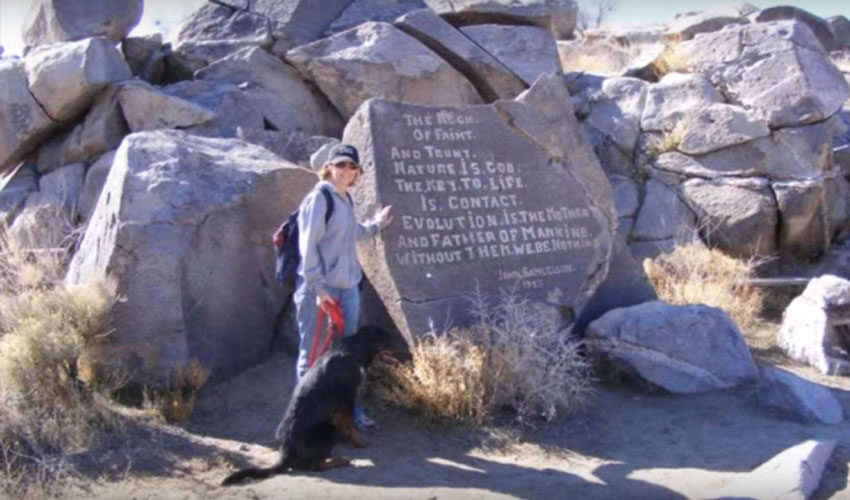 As you speed off with Salton Sea slowly receding in your rear view mirror, make the hairpin bend by Palm Desert, and swoop around Eagle Mountain and Joshua Tree National Park, you head for Twentynine Palms, a welcoming desert town on the edge of Joshua Tree National Park with an extraordinary and virtually unknown site in its back yard: Samuelson's Rocks.
Photo by John Carlson
Why haven't I heard of them before?
Chances are good that most visitors to Twentynine palms have never seen them, let alone even know they exist. And of those who do set out to find this evocative and elusive place, many  never return. Just kidding. But in reality, not everyone who tries to find them succeeds. Because Samuelson's Rocks are not an official National Park site,  no sign points to them on the road. And maybe that's a good thing.
Why are they special?
As you can see in this video, they are inscribed with Samuelson's philosophical and political sayings. To the best of our knowledge there are seven such rocks.Samuelson's chiseled his thoughts on both sides of just one of these, so there are a total of eight declarations on life etched into stone here.
So, who was John Samuelson?
He was a native of Sweden, who one day showed up on pioneer rancher Bill Keys' doorstep in 1926, looking for work. Strangers rocking up and looking for a job in the middle of the desert probably didn't happen too often, so Keys hired him.  From then on, Samuelson helped around the ranch and worked at Keys' Hidden Gold Mine nearby.

But when did he have time to do all the carving and etching?
Well, Samuelson evidently wasn't too happy about working for someone else, because the  following year he decided to prospect for gold and homestead. He set himself up on a piece of property in the middle of Lost Horse Valley, to the northeast of Quail Springs. He and his wife lived in a small canvas and wood shack that Samuelson built on a small hill. When he wasn't working, Samuelson carved political and philosophical sayings on flat-faced rocks near his home.
Not being an educated man, and likely also struggling with the English language, the statements that he carved through into the rocks contain quite a few grammatical liberties and misspellings, but that only makes them all the more poignant as we learn more about the man.
Okay. So what more do we know about him?
Samuelson soon filed for homestead on his property, but when the land office learned he was not an American citizen, they deemed that he could not legally hold title to the land. That was a crushing blow to him and he and his wife soon  moved to the Los Angeles area. Unfortunately, his bad luck carried on there: while at a dance in 1929, he got into a brawl with two men and killed them both.
Though Samuelson got arrested for the murders, he never went to trial. Instead, he was declared insane and was sent to hospital. Whether he was actually crazy or just extremely clever, we will never know for certain. At any rate, he was sane enough to escape from the facility a year later. He continued to evade the authorities, made his way north and settled in Washington state, where he eventually found work in the logging camps.
How do we know all this?
Bill Keys got a letter from Samuelson many many years later in 1954, in which he explaied that he wanted to return to the desert but was weary of being caught and sent to jail.
Some time later Keys received a second letter from the officials at the logging camp in Washington state where he was working. Samuelson had apparently been seriously injured in an accident. A third, final letter soon followed, letting Keys know that Samuelson had died of his injuries.
Though Samuelson's home in the desert is no longer there (it burned down in the 1930s), what he left is something much longer lasting, carved into the granite faces of seven massive boulders. He was proud of his carvings and knew his 'eternal verities' he arrived at in the desert would be there for centuries.
Pretty amazing. Could spend a whole day there, easy.
Well, you can, because as it happens, Twentynine Palms has an excellent RV resort where you can park and rest for the night before you head off for the next stop on your Wild West Challenge.
Liked this story? Getting itchy feet to travel and find adventures? Then join us on our next
Wild West Challenge
. Get a team together and experience an amazing road trip through the Wild West! If you want to join us in spirit, like us on
Facebook
or follow us on
Twitter
and
Instagram
to keep up with our latest antics. And to never miss any important update, why don't you sign up for
The Travel Scientists Newsletter
!