Salton Sea: California's Best Ever Mistake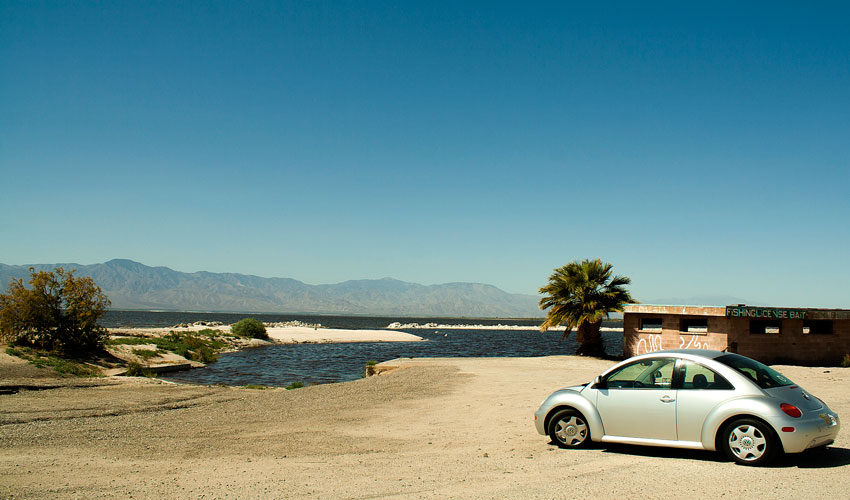 As you set off from Anza Borrego Desert State Park on the second day of your Wild West Challenge in the deserts of Southern California, your journey will soon take you past one of the most enigmatic and legendary bodies of water on Earth: Salton Sea. The largest inland lahis accidental and capricious love child of the Colorado River and an engineering flub continues to draw unlikely visitors of many kinds to this day.
Photo by Will Keightley
So how did it come to be?
The Colorado River burst out of all three of its diversion canals in 1905 and into the farm irrigation system, flooding, along with everything else, a massive salt mine,  forming a 15 mile-wide, 35 mile-long "sea".  That water carried on flowing into the Salton Basin for over a year and a half as workmen did their utmost to repair the breach, but in vain: by the time their flood defences were built, the Salton Sea had emerged.
Wow. So what happened next?
In 1927, Gus Eilers and a few other  entrepreneurs saw an opportunity in this   body of water just south of Joshua Tree and decided to take this blunder and turn it into the best mistake ever made. They took the strange "sea" in the middle of the desert and turned it into a swinging hot spot. For twenty years, well-off Los Angelinos flocked here for their share of water skiing and boating, on resorts such as Bombay Beach.
But after 20 years of fun in the sun, the ecological disaster that had been silently brewing finally boiled over, and the high salinity of the water, together  with the gargantuan amounts of agricultural waste, turned the  beach into a messy ghost town.
Oh dear. So that's why I haven't heard too much about it till now.
Indeed. When the party was over, it was well and truly over.  Agricultural runoff and irregular rainfall made the waters unstable. The lake had no outlet, and the water levels and salinity began to fluctuate wildly. Then the salinity shot up, which, by the sixties, had killed off what remained of  its ecosystem. Millions of fish and fowl carcasses did not a nice hotspot make, so the lake was abandoned, and the shores became a ghostlike shadow of what used to be.
Okay. What's happened here since then?
The lake has become a cult hero of sorts. There have been massive preservation efforts, which have paid off: the complex ecosystem now acts as a habitat to more than four hundred species of migrating birds,  more than you'll find anywhere in the U.S.,  except in the Gulf of Texas. Because of this, it has attracted an entirely different kind of holidaymaker. Yes, you've guessed it: Salton Sea has morphed into a favoured hunting site.

All year round?
Nope, and not randomly either. To be allowed to hunt here, you must have a permit issued by the Wister Check Station,  get an advance reservation issued by the California Department of Fish and Game, and you may only hunt from the assigned blind site on the permit. The blinds are provided by The Sonny Bono Salton Sea NWR. Also, you may only hunt geese, ducks, moorhens and coots.
I see. Anything else here?
Yes, many landscape photographers flock here to document its eerie, haunting beauty. Talking of pictures, it has its own museum dedicated to it : Salton Sea History Museum in Mecca at the Desert Cahuilla Wetlands. They have amassed  collections of literature,  photos, and many artifacts related to the sea and its history. The museum spotlights both the the physical-cultural and natural history of the sea and its surrounding areas, which has rendered it something of a source of regional pride. As a bonus, once you've gotten your fill of exhibits, you can explore the rich bird and wildlife habitat that surrounds it, and get your inner revs up for the next stretch of your  Wild West Challenge.
Liked this story? Getting itchy feet to travel and find adventures? Then join us on our next
Wild West Challenge
. Get a team together and experience an amazing road trip through the Wild West! If you want to join us in spirit, like us on
Facebook
or follow us on
Twitter
and
Instagram
to keep up with our latest antics. And to never miss any important update, why don't you sign up for
The Travel Scientists Newsletter
!