Hikes in Death Valley: Badwater Basin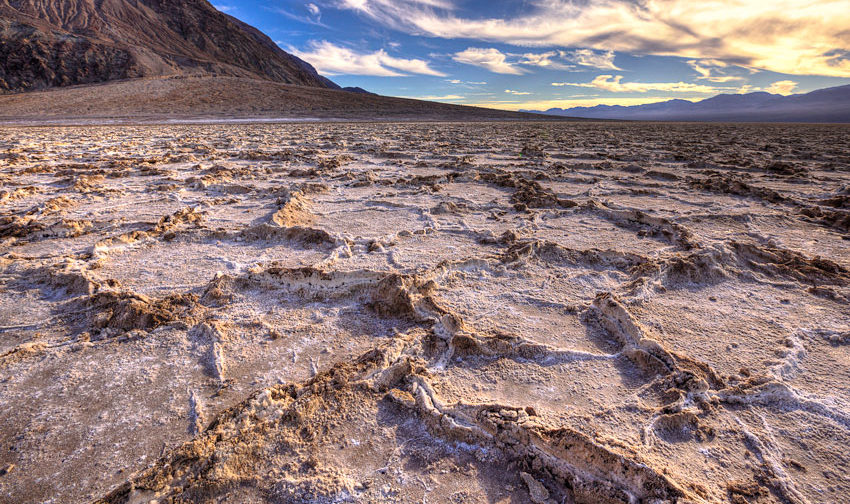 As you leave Tecopa and head into the depths of Death Valley, the lowest, hottest, driest, and largest National Park, you'll be treated to an otherworldly landscape of badlands, sand dunes, and hidden oases just begging to be explored on foot. We'll continue our Death Valley hiking trail series with the least challenging path yet, Badwater basin.
Photo by Nick Pelletier
What makes this so easy?
There isn't even a trail, you're on a boardwalk all the way out to the salt flats of the Badwater Basin. As you might know, it's the lowest point of elevation in the entire Western Hemisphere. Although it's not a very challenging at all, if you're in Death Valley National Park, this is a must-see, because, let's face it – if you're taking a trip to the Valley, you're going there for the superlatives – it's the driest, lowest, hottest place in North America. So chances are that if you're making a trip to Death Valley National Park, you're going to want to visit the lowest point of elevation in the whole of the Western Hemisphere – Badwater Basin.
Of course. I'd expect it's pretty well signposted too.
Very. Pretty much impossible to miss – there's a large parking area that normally has a healthy number of cars in it. If that fails, just look for the spot in the middle of the salt flats where you'll see people wandering about aimlessly.
I won't even ask you for the stats.
Well, right, this is not really a 'hike', but more of a casual stroll out into the Basin itself. You'll see a few informative plaques along the boardwalk as well as a very entertaining (though hard-to-photograph) sign posted in the nearby cliffside which shows you where the sea level is. Just next to the parking area is a tiny salt lagoon that you can approach via the boardwalk: Depending on the rainfall in that year, this lake-let can shrink or expand in size.
That'd be good to see too.
In the winter of 2004-5, Death Valley received four-times its average rainfall, and a temporary body of water called Lake Badwater formed here, at the place of the prehistoric inland sea known as Lake Manly. That would have been something to see too.
It left the salt flats behind.
Yup, and most visitors just walk off the boardwalk and straight onto the salt flats themselves. And the effect is otherworldly. You're walking on a completely desolate carpet of table salt on an almost perfectly flat valley, surrounded by huge mountains. There really isn't anything like it on the planet.
Is the lowest point marked anywhere?
It is out in the salt flats, but it's not noted by a plaque or USGS marker so you'll have to rely on a GPS … or just note where the footprints in the salt start petering out.
I'd stay out in the flats as long as you like. Enjoy the relative isolation and silence in the strange and unique landscape around you – and marvel at the grit of early settlers who had to live and work in a place like this. The original Wild West Challenge takers.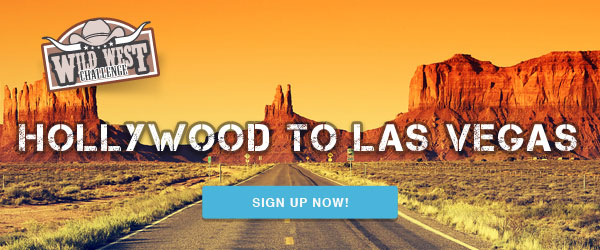 How to get there?
From the junction between CA-178 and CA-190 near the Furnace Creek Inn, head south for 16.7 miles. You'll be able to clearly see the parking area on the west side of the road.
Liked this story? Getting itchy feet to travel and find adventures? Then join us on our next
Wild West Challenge
. Get a team together and experience an amazing road trip through the Wild West! If you want to join us in spirit, like us on
Facebook
or follow us on
Twitter
and
Instagram
to keep up with our latest antics. And to never miss any important update, why don't you sign up for
The Travel Scientists Newsletter
!